Published in Club News on 2nd April 2006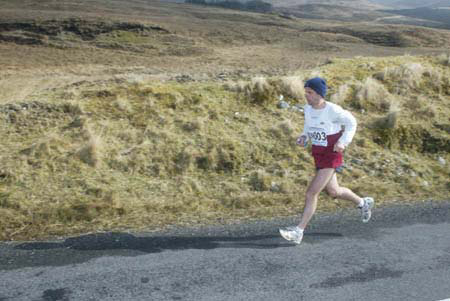 Connemara Ultra 2004:Connemara Ultra 2004
Mick Rice completed the UK 100 kilometer Championships (Anglo Celtic Plate) in 8hrs 18mins today (Sunday 2nd April) to finish in seventh position overall. The race was held on a two-mile track at the RAF base in Innsworth, Gloucester. As if the distance was not enough to contend with, a strong wind blew steadily all day on the exposed course, and increased in strength as the day wore on. At one stage chairs blew across the course infront of the lead runners! Times were down across the field in the poor conditions.
Mick competed for Ireland today, but was unfortunately the only Irishman in the field. He managed to beat all the Scottish runners and all but one of the Welsh.
I spoke to him in his hotel room shortly after the event and he was in good spirits and very happy with his run.
Congratulations Mick. Today was another landmark in the short history of our club.
++++
In other club news today Alan Burke, Gary Doherty and I travelled down to Quilty in west Clare for the Michael Egan Memorial 4m race. A beautiful sunny day for the race, but we also had some of the wind Mick experienced in Gloucester. My first experience of running in Quilty, this was the 33rd consecutive race!
I was happy to clock a 24:26 marking another step on my recovery from a knee injury. Gary is not sure of his time but ran about 26mins before heading off to a clay shooting competition where he managed to hit 20 of 25 targets. Would that qualify as a bi-athlon?
Run of the day however goes to Alan who was delighted to capture a valuable scalp today. Finishing in 25:13, Alan managed to edge past Tom Hunt of Mayo with about 100m to go. Although Tom has a few extra years experience on Alan, he is showing no signs of slowing down, so Alan won the Cheshire Cat award.