Published in Club News on 22nd May 2006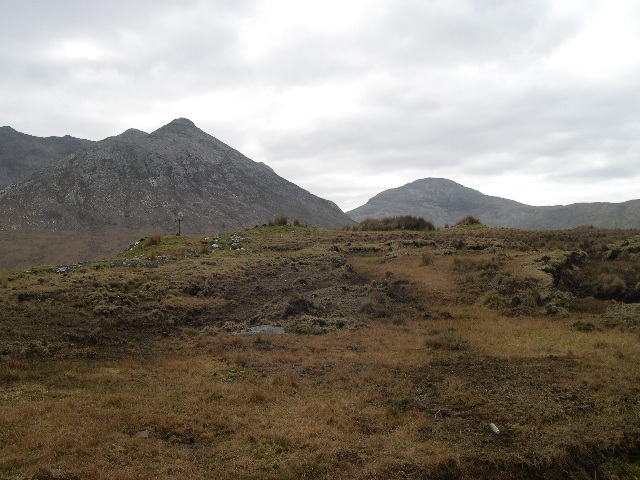 Inagh Valley
Just before 9am. Connemara seems tame enough outside Keane's Bar in Maum. Mick, Ray, Darragh and I decide not too hang around in the cold, windy morning. The light rain hurried us on our way over Maum Bridge. Within two minutes we had left the R336 and turned right along a sparesly populated road into the heart of the Maumturks.
Ray had sowed the seed for this idea two or three years ago on a spectacular run out-and-back from Oughterard along Lough Corrib. He had mentioned running The Western Way - a way-marked trail from Oughterard to Westport - an idea at which I baulked at the time. However, despite my initial reservations something sparked inside me. I bought the Ordnance Survey Guide to the Way about a year later and since then it has never strayed far from my bedside locker - taunting me. After spending a few months injured over the winter I have returned to running with a different attitude and it was simply 'if not now, when?'.
Mick, always willing to support a running venture, agreed to join me. Ray jumped at the idea and was delighted, if not a little nervous, to go for it. A phone call from Darragh at the eleventh hour meant that Athenry AC had company from a Loughrea man.
We cruised easily along the 'Maum Golden Mile' and I wondered had I gone over the top filling a small ruck-sack with first-aid gear, a compass, a whistle, enough gels to support a marathon field and extra layers of clothing. The 'Maum Golden Mile' is a measured mile marked by a start and finish post along this small country road. Answers on a postcard if you know what that is all about!
We continued on tarmacadam for about four miles working predominantly uphill alongside a rocky crag called Aill na gCat - once frequented by, now extinct, wildcat. The sense of adventure heightened as we passed through a gate onto a rough and rocky track which headed deep into the Maumturks and some spectacular scenery. The Way traverses a mountain pass between Binn Mhor on our left and Binn Chaonaigh to the right. The strong wind pushed us up-hill and we hardly noticed the rain on our backs. The up-hill was challenging but my worst problem at this stage was cold hands. I'd have paid good money for a pair of gloves but there were no canny Connemara salesmen on the mountain.
Over the pass the wind began to roar and it was wild as we crested the top and looked towards Lough Inagh and Recess. This part of the Way is actually a pilgrim route and although I was expecting it, I was somewhat taken aback at the grandness of the statue of St Patrick, the Chapel and the stone crosses that appeared on our right hand side.
Although the scenery was fantastic, we really had to concentrate on our footing as we began the descent towards Inagh Valley. The track was rocky and wet. The wind buffeted us forward through small streams and run-offs, here boggy and here slippery. At this stage I glanced to the right to see a way-marker about 50 yards off our course. Concentration was important in order not to lose our way as we descended steadily.
At the bottom we turned right along the valley floor and ran for a few miles on a surfaced road between the magnificent Twelve Bens and the Maumturks. This was fun. The wind gusted and virtually threw us forward and the craic was good. We met a few walking parties heading the opposite way into the wind and laughed at their expense. A farmer with a mouth full of missing teeth said something about the soft weather and on we went.
I was nervous about what lay ahead.
The road was left behind as we jogged into the bog. What followed was two and a half miles of old coach road buried beneath a blanket of turf. Energy sapped from us as we worked hard to make forward progress. Mick was the first to disappear as he sank a leg thigh deep into a bog hole before pulling onwards with a loud sucking, squelching, muddy noise. They don't usually do bog where Mick is from in Dublin's Northside but he was coping well.
By now we were soaked. Wind and rain was the least of our worries as we ran through streams and marsh. We were beginning to resemble mud-wrestlers as the splashing brown water covered us. My turn came as without warning my forward motion was jarred to a halt by a left leg buried knee high in bog. I prayed that when my foot appeared from the mire it would still have a running shoe attached. Ray laughed as I pushed on like something from a B-rated horror movie.
It was with some relief that we reached the track through the woods at Log an Tairbh (the Bull's log???). The scenery changed, the underfoot conditions improved drastically and we entered the fourth phase of our journey. Much of this section ran along the edge of the coniferous woods, not far from Kylemore Abbey, but it was welcome relief to enter the woods proper and get some protection from the severly gusting wind. A few hill climbs kept the concentration levels high and we topped up with carbohydrate gels and bars. Fatigue was beginning to become a factor after the boggy section and despite the slow, steady pace this was now hard work. Thoughts of hot soup began to fill my mind.
The Way turned to the left off the woodland track and up a steep muddy hill. We descended on the far side through four inch deep squalor towards a first sign of civilisation. Somebody emerged from their warm and sheltered bungalow to start up the 4-by-4. A bemused look at the four soaked and filthy individuals was all we were spared as he pulled out of his drive and disappeared into the distance. We were now alongside Killary fjord and were surprised to see two signs directing us left towards the road that runs alongside the water - the road well know to connemarathoners as they head towards the half-way mark at Leenaun. We were surprised as the map clearly indicated that we proceed forward along the side of Bucan hill at an elevation of about 75m above the fjord. The cold, the wind, the tiredness and the increasing rainfall helped us to make a quick decision. We decided to play it safe and follow the signs left to the road and the last mile into Leenaun.
Our fifth section began with the realisation that we were still a good three miles out from hot soup in Leenaun, however we were now on familiar ground and moved forward in unison towards warmth and sustenance. For some reason I had a strong desire for hot coffee laced with whiskey! Onwards.
Killary fjord is a 10 mile long drowned river valley running between the Mweelrea and Sheeffrey mountains to the north and the Maumturks to the south. It forms a natural playgound for the wind, which now tunnelled ferociously along the valley - right into our faces. The raindrops were now whipped into stinging bullets that hurt the eyes and face. The fun ended. At one stage I watched as the waves on the deep fjord were dragged upwards into the air. The spray rose about 6 feet above the surf and we trudged onwards.
By now Ray was suffering. He was not alone, however his particular difficulties were worse than ours. We tried to remain in a tight knit group along the roadside, but at times we slowed to a walk just to maintain forward motion. The walks were short however the running was not much faster. This was getting a bit serious. My hands had felt like cold clubs at the end of my arms for some time now, but at this stage, soaked from head to toe, my whole upper body began to lock up in the cold. My arms found a position and locked there, no longer swinging back and forth. My chest muscles seemed to contract tightly and squeeze. I can honestly say I never felt so cold before, and on we went.
Ray was formidable. Despite slowing up, he maintained a forward motion and never once complained. He even laughed as Mick mentioned that the sun was coming out, and urged us to move on without him. No chance of that.
I was surprised at how well Darragh was running. Despite my wondering, without many long runs under his belt he seemed to be well able for this.
Four wet rats enter Leenaun twenty miles from our starting point and attempted to get a key into the car door. We simply were unable to open the boot with shaking, numb and weak fingers, so just piled in to get out of the wind and rain. Within minutes we were in dry clothes, drinking soup and eating toasted sandwiches. Despite my best efforts the proprietor didn't add a drop of whiskey to the coffee. We caused a bit of a stir in the café as bemused tourists watched us trying to lift soup to our lips with hands that shook violently in the aftershock of the cold.
Would I do it again? As soon as I can!
_____________________________________________________________________________
This run was dedicated to the memory of Frank Haines who tragically died during the Connemara half-marathon in March. A stone was laid at the foot of the tree planted in his honour at the top of the Hell-of-the-West.