Published in Club News on 28th July 2006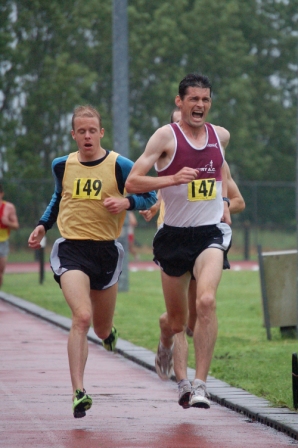 Paul McNamara represented Athenry AC at the AAI National Senior Track and Field Championships in Morton Stadium, Santry last weekend (22nd and 23rd July). He competed in both the Senior 5000m on Saturday and the Senior 10000m on Sunday unluckily finishing just outside the medals and claiming fourth position in both races. Paul's times were 14:39 for the 5000m and 30:27 for the 10000.
Gary Thornton of GCH was the other Galway athlete in the 10000m finishing 8th in 31:27.
Well done Paul and Gary.
Unfortunately Athenry AC's Paul Hession did not compete at the event due to injury, but makes a welcome return to competion this Saturday the 29th at the Dublin International. His 200m event was won by Paul Brizzel in 21.33. Paul's best time this season of 20.75 makes him a strong contender at the European Championships in Gothenburg on August 7-13th. He has been selected for the Irish team pending a fitness test, making the Dublin International an important milestone for him. Best of luck Paul.
Full results of the AAI National Senior Track and Field Championships are available at
http://www.athleticsireland.ie/content/wp-content/uploads/2006/07/Senio…