Published in Club News on 16th December 2007
Photo's courtesy John Walshe and James Sexton
Galway females were in fine form in Dungarvan today. The AAI Novice & Juvenile Uneven Ages Cross Country Championships of Ireland were held in perfect cross country running conditions in Waterford on Sunday. The Athenry U13 Girls stole the early limelight by producing a fine team performance and claimed All Ireland Silver Team medals. Halleigh Somers led the team home in 17th place and was immediately followed by her team mate Derbhla Fox in 18th position. Lorna Hannon was the next Athenry girl past the post in 42nd position and she was in turn closely followed by Marie Tuohy and Orlaith McGrath in 48th and 69th positions respectively. When all of the calculations were done Athenry AC had come out as second best club in the country and were duly rewarded with their silver team medals. Congratulations to all involved.
The Athenry U11 girls team had also run very strongly. Rachel O'Brien had led her team mates home in this race and Grace Cahill (86th), Niamh Keane (102nd), Eimear Keane (103rd) and Dervilla Higgins (125th) completed the Athenry AC team. Some fine performances here in an U11 race of outstanding quality. Well done to the U11 team on fine performances in the Maroon and White of Athenry AC.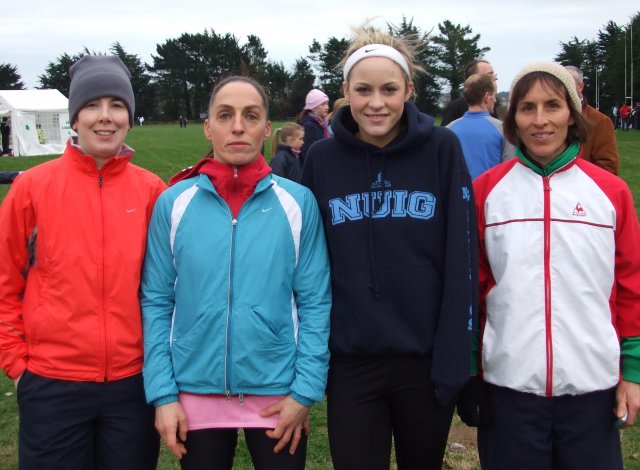 Galway Novice Women's Team
When it came the turn of the adult athletes to run in the two novice races there was a lot to live up to and there was indeed further success to come. The Galway Women's Novice Team was led home in a superb 2nd place by GCH's Orla Ni Mhuircheartaigh who finished like a rocket passing runner after runner in the closing stages. The race was run over two laps of the venue and Orla lay in 25th position about a third into the race, had advanced to 10th by the middle of the final lap and moved into third place with only a hundred yards to go. Orla picked off one last position in the shadow of the line to claim individual silver. An outstaning performance from the young GCH star. Close behind her was Athenry's own star Ann Carter in 11th position, another brilliant run by Ann in top notch company. Another Ann, Ann Burke of Balinasloe (29th) and Bernie Kelly of GCH (83rd) completed the Galway Team scoring positions. There were smiles all around afterwards and we send all of our congratulations to the successful Galway Women's Novice Team. Well done!
The Galway Men's Novice team had a lot to live up to at this stage and did their best under great pressure from their female counterparts to run well. Brian O'Connor led home both the Galway County and Athenry AC teams in this race in 84th position. Brian Bruton (Athenry AC) was hot on his heels in 93rd. Mick Rice (Athenry AC) stayed on into 116th place and was chased home by Danny Carr of GCH in 127th. Darragh O'Brien (Loughrea AC) and John O'Connor (Athenry AC) were in 131st and 140 places respectively.
All in all a great day at the races for Athenry AC and Galway. Appologies if I've omitted any Athenry runners. If I have please let me know and I'll include their results here straight away.
Congratulations to all the athletes, officials, parents, siblings and helpers who made the long trip to Dungarvan to represent their club and county.
It was a day to be proud to wear the colours.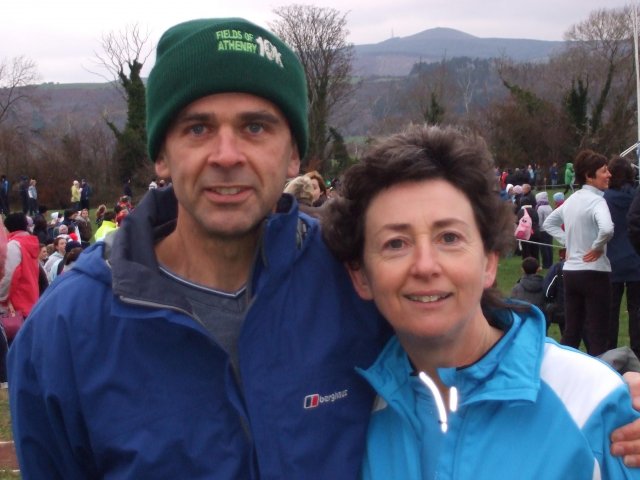 Bernie and Mick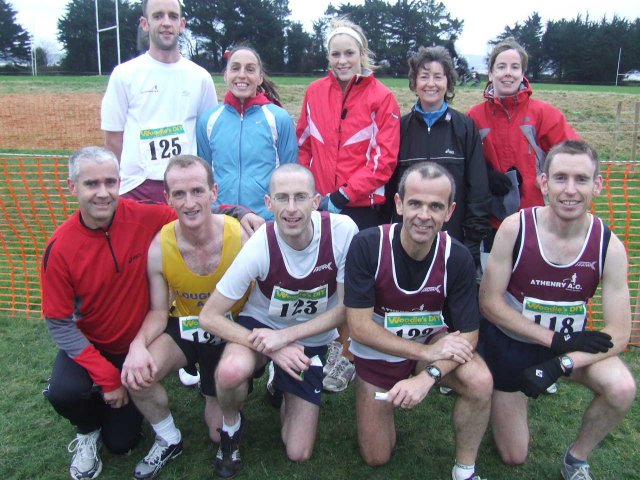 Men's and Women's Teams