Published in Club News on 24th January 2008
Congratulations to Johnny O'Connor, the Athenry AC "Club Person of the Year" for 2007. Johnny accumulated a total of 65 points over 28 races during the calendar year 2007 to win out over Paul McNamara on 57 points and Alan Burke on 56.
This friendly intra-club competition consists of tallying every race run (or triathlon competed in) by an Athenry AC member. Two points are awarded per race or triathlon, with 3 for a marathon, and three for an official AAI race.
In 2007, 68 athletes competed while members of the club, of which 25 were women. Considering the years when we only had one or two women members it's an amazing and brilliant turnaround to see so many of them active now. For those of you who are statistically minded, we competed in 92 races in all, and the total number of individual runs was 614.
The most participated-in race was the Streets of Galway 8k, with 30 Athenry members competing. By far the most popular series of races was the Galway 5k Series held in May, with all five races being in the top 11 most popular races.
Of interest also are the far-flung destinations of our athletes. Mark and Gráinne Breen competed in Palm Beach, Florida. The aforementioned Johnny ran a 5k in Newfoundland. Liam Mycroft ran a scary-sounding Buzzard 8k in Yukka Valley, California. But Maria Hehir topped them all by running a 10k actually on the Great Wall of China.
Maria was also our top women at joint 10th, while Derek Conerney was our top triathlete. Spare a thought for Gary Doherty who accumulated all his points before early August and still managed joint 8th with Derek.
Here are the final standings: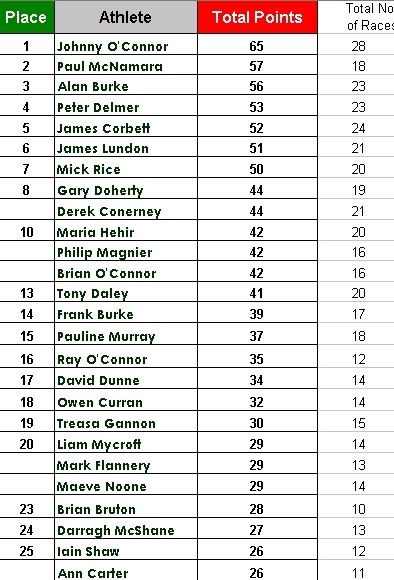 #1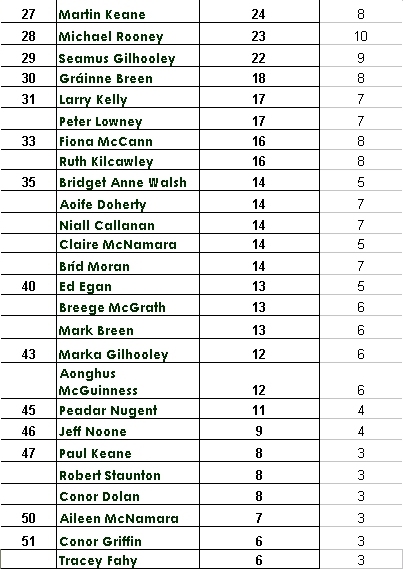 #2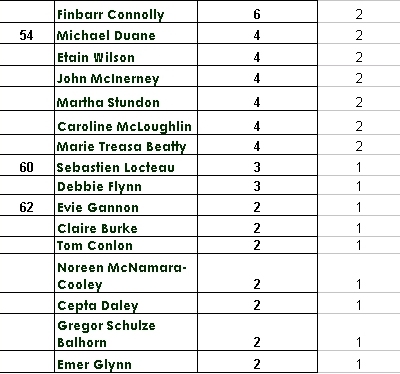 #3
and the most popular races: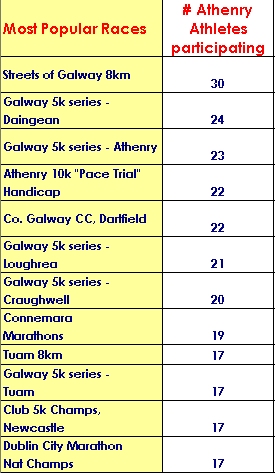 most participated in races 2007
See the attached zipped Excel file for more details. Note the three separate tabs/ sheets along the bottom for all the details.