Published in Fields of Athenry 10km on 25th December 2008
The seventh running of the Fields of Athenry 10k will take place on the traditional date, the 26th of December 2008 at 11:00am. The race will be held over the same course as last year starting beside the railway line in Athenry and finishing under the Arch in the middle of the town. A map of the route is attached below. Race HQ will be in the sports hall of the Presentation College Athenry.
The members of Athenry AC are proud of the fact that runners and walkers of all standards are welcome at this event. We'd be particularly pleased to welcome the many members of the Fit4Life training groups around the county and further afield to this event. From the speediest speedsters to the most leisurely strollers and the most stylish wheelchair athletes, there's a place for all in the Fields of Athenry 10k. The members of Athenry AC will do all we can to ensure a warm welcome and a quality event next St.Stephen's Day.
Each participant will be rewarded for their efforts with one of our famous souvenir wooly hats. There will also be special 'Top 50' long-sleeved t-shirts which will be awarded to the first fifty people to cross the finish line.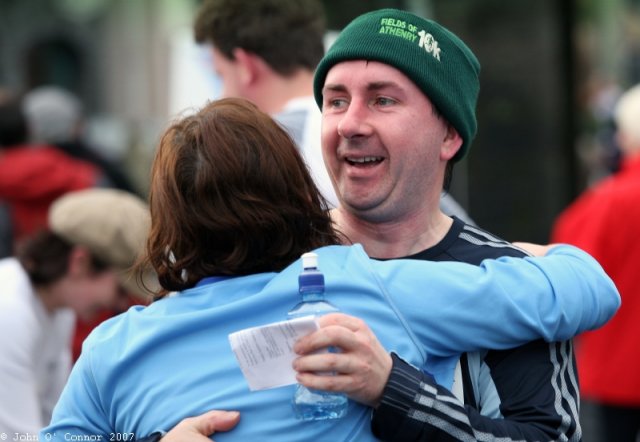 Fields of Athenry 2007
Race Entries
Online race entries are available at www.RunIreland.Com
A downloadable postal entry form is attached to this article.
A limited number of race entries will be available on the day subject to an overall limit on the race size of 1000 runners and walkers.
Please note that the number of entries has grown for this event each year and the club has decided to limit the field this year to the first 1,000 entries received either online or by post in order to make sure that we can cope safely with the event. If this limit is reached before the 26th of December, there will be no entries accepted on the day of the event.
Number pick-up and race day registration, if available, will be accomodated in the Presentation College Athenry between 09:30am and 10:30am on the day of the race.
The entry fee this year will be € 20.00, which will be discounted to € 18.00 for all online entries which are received before the 1st of December 2008. The entry fee for all postal entries will be € 20.00 either before or after that date.
Juvenile Fun Run
Following on from the great success of last year's inaugural juvenile fun run we shall repeat the process. The following arrangements apply - Check in 10.00am - Race Start 10.15am Sharp - Entry Fee €5.00 - Entry forms are attached to this article and a limited number of additional entries will be taken on the morning of the run.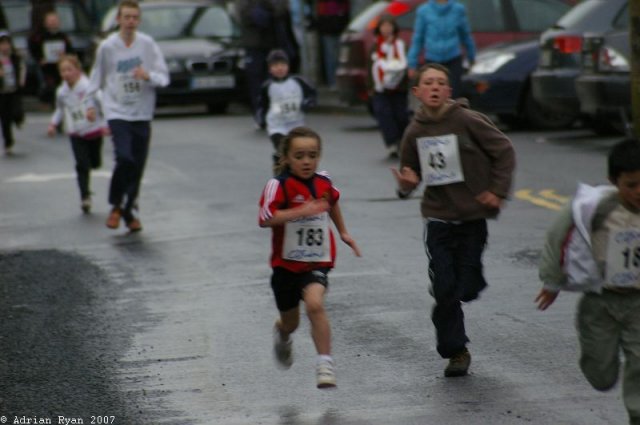 Stars of The Future In Athenry December 2007
Fields of Athenry 10k
Find more Runs in Athenry, Ireland