Published in Other News on 20th March 2006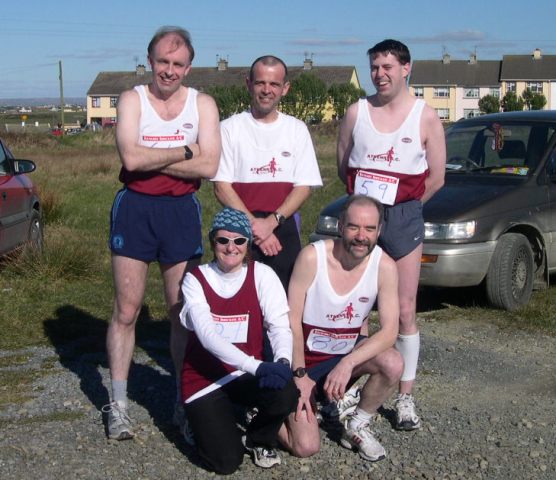 Quilty 2004
Kilmurry Ibrickane/North Clare Athletic Club are holding the four-mile open road race and four-mile fun-walk at Quilty, Co. Clare on Sunday 2nd April 2006 starting at 01:00 pm with the walk and the road race 01:30pm. This ever-popular event has been a regular on the Athenry AC touring schedule for the last few years and retains it's reputation as one of the best road races in the country.
Changing facilities and entries at the Kilmurray Ibrickane Football Club on the main Quilty - Kilrush Road.
PRIZES: 3,000 . Euros CASH PRIZE FUND Plus TEAM AWARDS.
1ST. 10 SENIOR MEN Winner-2005, G. Ryan G. C. H. 1ST. 3 MEN O/40 (19 : 24)
1ST. 3 MEN O/45
1ST. 3 MEN O/50
1st. 2 MEN O/55
1ST. MAN O/60
1ST. 3 JUNIOR MEN / Ladies
1ST. 10 SENIOR LADIES Winner-2005 V. Colleran E. T. C.
1ST. 3 LADIES O/35 (23 : 51)
1ST. 3 LADIES O/40
1st 3 LADIES O/45
1ST. LADY O/50
1ST. 4 MENS TEAMS (4 TO SCORE)
1ST. 3 LADIES TEAMS (4 TO SCORE)
*** TEE- SHIRTS TO ALL FINISHERS (ENTRY FEE ON RACE DAY 10 Euro)
*** PLUS NUMEROUS SPOT PRIZES AND REFRESHMENTS.
*** FUN RUNNERS AND WALKERS WELCOME"¦"¦"¦.
James Sexton Secretary. Phone: 065-7085379 (home)
2 Kilcorcoran, 087-2472623 (mobile)
Ballard Rd. Miltown Malbay E-MAIL. [email protected]