Published in Other News on 15th May 2006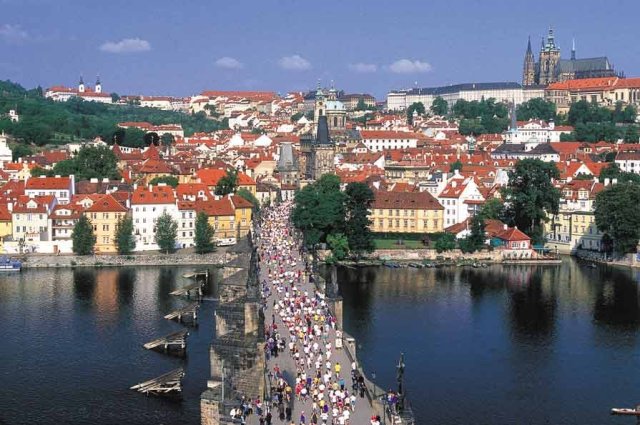 Prague Marathon
UPDATE: Carramore 10k Results Now Available HERE
UPDATE2: Craughwell Handicap 10k Results Now Available on the Craughwell AC Site at HERE
Now that we've had a few days of sunshine mixed in with the more usual rain and cold, perhaps we can say that the summer is upon us in the west of Ireland. The local road-racing scene has certainly sprung to life over the last week or so and there were Athenry AC athletes in action at races as far afield as Prague in the Czech Republic and also a little closer to home in Carramore Co. Mayo and Craughwell Co. Galway.
Our very own Liam Mycroft continued his recent vein of good form in the Prague Marathon yesterday after having been forced to withdraw from the Belfast Marathon only two weeks ago with an injury. Liam's brief text message to me yesterday just about summed up his race. He wrote, "Managed to get around in 4:08. Great course, but a very hot day. Now to hit the beer." Congratulations Liam on a fine performance and what sounds like a great event. Perhaps this is one we can think of for a future Club outing. We're all looking forward to the race report, which will no doubt be published on Liam's blog at, http://www.irishrunaholic.blogspot.com/.
Saturday evening saw the first of the Mayo Road Racing League promotions. Regina Casey won the women's race in a time of 38:30 while John Byrne picked up the men's race with a 31:45 effort. Jason Broderick was the first male junior home and ran a fine 33:34. Jason who has been training under the guidance of former Olympian Jerry Kiernan is improving hand over fist and is surely looking forward to yet more improvement over the summer months. Although I couldn't make it to Mayo myself, my spies tell me that Gary Doherty ably represented Athenry AC on the evening.
The following morning a smaller group of hardy souls lined up in Craughwell for the third installment of the local clubs very popular 10k Handicap Series. Sunday's race attracted runners from as far away as Cork and most of the local clubs were well represented. Great credit is due to a small number of dedicated runners who turned up in Craughwell in the cold and rain having also raced in Carramore the previous evening - take a bow Bernie Kelly and Josephine Gardiner. Athenry AC had Philip 'Twinkle Toes' Magnier and Mick 'Wrong Way' Rice on the starting line. I don't have the results of the handicap to hand yet but the should be available shortly at www.craughwellac.com.
Tomorrow Tuesday sees the action switch to Tuam for the second in the inaugural County Galway 5Km Series. This series kicked off on Tuesday last in Athenry and will visit Craughwell and Dangan on the subsequent two Tuesdays. These races have been specifically provided for runners and walkers to have an opportunity to take part in an informal, friendly 'race' and absolutely everyone is welcome to take part.
See you in Tuam.