Published in Other News on 17th May 2006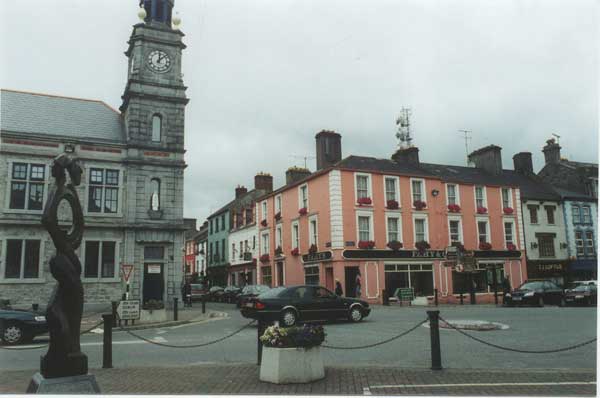 Tuam Town Center
The second in the Galway 5k Series was held last night on a fast course that started and ended close to the new swimming pool complex adjacent to the town's Catholic Cathedral. Although runners and walkers were not blessed with the same fantastic weather as in Athenry a week previously it was a good night to run with only a light cool breeze to hinder their progress. The course covered much of the same ground as Tuam AC's popular 8Km race held each year on New Year's Day and fast times could have been expected right through the field.
Race organisation was low key and efficient prior to the start and it was no doubt helpful that many people had taken the opportunity to register for the race series last week and so only had to turn up and run. As runners and walkers prepared for three miles around the town, the atmosphere was full of anticipation. Some familiar faces were back at the 'races' after short breaks. It was particularly good to see Martin McEvilly (GCH) and Kathryn Casserly (Castlegar) back on the roads amongst many other familiar faces.
Shortly after 7:30pm the seventy-six entrants on the night were called into a line and, with race director Brendan Monaghan amongst them, the event got underway. When the runners made their way back to the finish line Robert Malseed (Clonliffe Harriers) was at the head of affairs clear of Ruaidhri Geraghty (GCH) with Conor Moloney in third. Amongst the women Regina Casey (GCH) ran a speedy 18:23 with Anne-Marie Miskell (GCH) and Michelle Lynch (GCH) both also dipping under the twenty-minute mark. Unfortunately Kathryn Casserly had to withdraw from the race in the early stages with a recurrence of an injury. Hopefully Kathryn will be back in competitive action soon. Amongst the walkers Mary O'Brien was first home. Unfortunately there weren't that many walkers in the field and many, many more would be welcome to take part in the remaining races of the series.
There were some fine performances down the field with James Lundon from Athenry AC posting a fine 19:08. James will surely take great encouragement from this run in his ongoing quest to dip under forty minutes for a 10k at some stage this year. James came into the race on relatively light training but is surely the fittest hurling referee in the county. Athenry AC had a fine turnout on the night with ten athletes sporting the maroon and white, prompting a comment at the starting line that the 'Athenry Mafia' was out in force. It was great to see so many runners in Athenry colours at a road race.
Another runner in sparkling form on the night was Craughwell's Mike Tobin who improved yet again to run 17:16. Mike finished like a train and was little unlucky not to finish ever higher up the field, although Peter Delmer might argue with that. On the down side for Mike, surely his cover is now blown for the remaining race in Craughwell's 10k Handicap series.
Congratulations once again to all in Tuam for an excellently organised event, which we can hopefully all look forward to running this race again in years to come.
Full results of the race are also posted on this page.