Published in Other News on 28th June 2006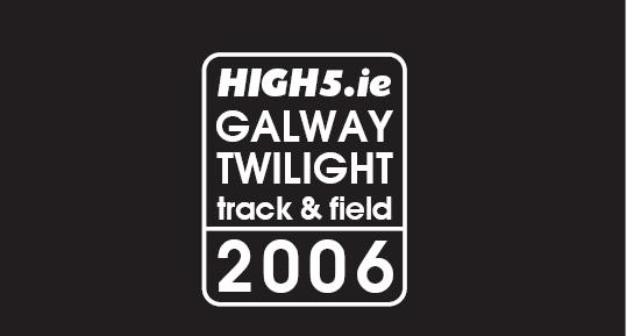 T_and_F_Logo
Strong International Fields
Athenry Athletic Club, www.High5.ie and The Irish Milers Clubare pleased to announce strong fields for the invitational races at their co-sponsored track and field meeting scheduled for Saturday the 8th of July next. These fields are not final as organisers are still in touch with a number of other interested athletes and entries may still be accepted from qualifying runners.
In particular the organisers are interested in hearing from female runners who may wish to compete in the Invitational 3,000m race. Prize money will be awarded to the first three finishers in all of the invitational races.
Open Races "" Places Still Available
In addition to the invitational races mentioned above there will also be a number of open races on the night specifically aimed at the casual or club runner and places still remain available in some of these races. There will be open mile races for men and women as well as a 5,000m for men and a 3,000m for women. No experience of racing on a track is necessary to take part and once again entries would be particularly welcome from female runners of all standards.
To enter just email your name and the event you'd like to run to [email protected]
The entry fee is 5 Euro per person per event
More information on these races will be posted on the Athenry AC and Irish Milers Club websites as it becomes available and enquiries can be made to Paul Mc Namara on +353 (087) 9690294 or Mick Rice on +353 (087) 2896989.
A full list of events is given below.
On a night when top class track and field action returns to Galway for the first time in many years make sure you're part of the action.
5,000m Men (Invitational)
Name Club
1 Ben Noad Highgate Harriers / England
2 Brian McMahon Carraig na bhFear
3 Conor McGee Lucan Harriers A.C.
4 Dave Mitchinson Newham & Essex Beagles / England
5 Eamonn Hornibrook GCH
6 Fergus Meade East Cork
7 Gary O'Hanlon Clonliffe Harriers
8 Gary Thornton Galway City Harriers
9 Isaac Kiprop Uganda
10 Joe McAllister St.Malachys
11 John Downes Donore Harriers
12 John Eves DSD
13 Mark Kenneally Clonliffe Harriers
14 Michael O'Connor GCH
15 Mick Clohissey Raheny Shamrocks
16 Paddy Cassidy Glaslough Harriers
17 Paul Fleming Rathfarnaham/SAF
18 Paul McNamara Athenry A.C.
19 Peter Reilly Leigh Harriers
20 Stephen Hepples Newham & Essex Beagles / England
21 Steven Vernon Stockport AC / England
3,000m Women (Invitational)
Name Club
1 Aoife Talty Raheny Shamrock AC
2 Brid Ni Chonnail Raheny Shamrock AC
3 Caitriona Hooper Raheny Shamrock AC
4 Orla O'Mahoney UCD AC
Mile Men (Invitational)
Name Club
1 Brian Farrell Sli Chulainn
2 Colin Costello Star of the Sea AC / University of Arkansas
3 Danny Carr GCH
4 Martin Corcoran Loughrea AC
5 David Kelly Sligo AC
6 Emmett Dunleavy Sligo AC
7 Eugene O'Neill Crusaders AC
8 Jason Broderick Loughrea AC
9 Mark Kirwan Raheny Shamrocks
10 Martin Conroy Sligo AC
11 Ricard Corcoran Raheny Shamrocks / Villanova University
12 Mark Pollard City of Edinburgh /Scotland
13 Darren Gaufon City of Edinburgh /Scotland
Events
Track
5:00pm Men Mile B - Open
5:15pm Women Mile B "" Open
5:30pm Senior Women 3,000m - Open
5:45pm Senior Men 5,000m - Open
6:25pm Women Mile A - Open
6:45pm Senior Men A Mile - Invitational
(Subject to qualifying time 04:20 Mile or Equivalent)
7:00pm Senior Women 1,500m - Invitational
(Subject to qualifying time 4:50 1,500m or Equivalent)
7:20pm Senior Men 5,000m - Invitational
(Subject to qualifying time 15:30 5k or Equivalent)
Field
5:15pm Senior Women Long Jump - Open
5:45pm Senior Men Long Jump - Open
6:15pm Senior Women High Jump - Open
6:25pm Senior Men Shot Put - Open