Published in Other News on 5th July 2006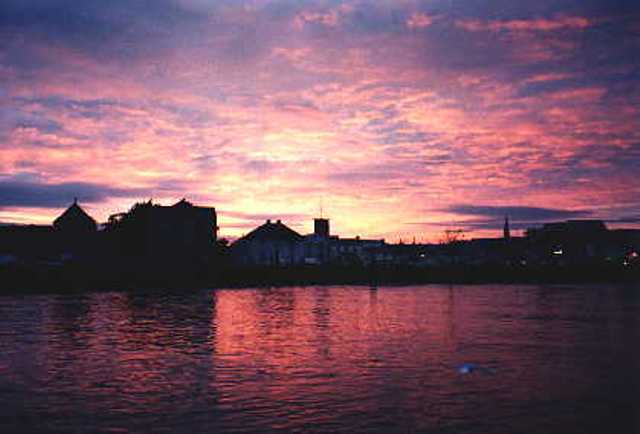 Galway Twilight
Final Preparations Being Made
Preparations are in their very final stages for a great night's athletics in Galway on next Saturday evening the 8th of July starting at 5:00pm. Some of the best runners from both home and abroad will be traveling to Galway for the www.High5.ie Galway Twilight Track and Field Meet and to take their chances around the University Track in Dangan. Some very competitive races are in prospect and more details of the fields as they stand are given below. Organisers will still accept entries for the invitational races from suitably qualified athletes.
The schedule also includes five open races for recreational runners and entries will be accepted for these races up until and including the evening itself. If you'd like to get involved just send an email to [email protected] giving your name and preferred event. Check out the schedule of races below, there's sure to be one that suits.
For those unfamiliar with Galway a map giving directions to the track is given Here! A larger version of the map is also attached if needed.
Events
Track
5:00pm Men Mile B - Open
5:15pm Women Mile B "" Open
5:30pm Senior Women 3,000m - Open
5:45pm Senior Men 5,000m - Open
6:25pm Women Mile A - Open
6:45pm Senior Men A Mile - Invitational
(Subject to qualifying time 04:20 Mile or Equivalent)
7:00pm Senior Women 1,500m - Invitational
(Subject to qualifying time 4:50 1,500m or Equivalent)
7:20pm Senior Men 5,000m - Invitational
(Subject to qualifying time 15:30 5k or Equivalent)
Field
5:15pm Senior Women Long Jump - Open
5:45pm Senior Men Long Jump - Open
6:15pm Senior Women High Jump - Open
6:25pm Senior Men Shot Put "" Open
Invitational Fields
These Fields Are Not Final
5,000m Men
Name Club
1 Ben Noad Highgate Harriers / England
2 Brian McMahon Carraig na bhFear
3 Conor McGee Lucan Harriers A.C.
4 Dave Mitchinson Newham & Essex Beagles / England
5 Eamonn Hornibrook GCH
6 Fergus Meade East Cork
7 Gary O'Hanlon Clonliffe Harriers
8 Gary Thornton Galway City Harriers
9 Isaac Kiprop Uganda
10 Joe McAllister St.Malachys
11 John Eves DSD
12 Mark Kenneally Clonliffe Harriers
13 Michael O'Connor GCH
14 Mick Clohissey Raheny Shamrocks
15 Paddy Cassidy Glaslough Harriers
16 Patrick Hamilton Annadale Striders
17 Paul Fleming Rathfarnaham/SAF
18 Paul McNamara Athenry A.C.
19 Sean Connolly Tallaght
20 Stephen Hepples Newham & Essex Beagles / England
21 Thomas Maunsel Leevale AC
22 Tom Carey Limerick AC
3,000m Women
Name Club
1 Ann-Marie Hickey Raheny Shamrock AC
2 Aoife Talty Raheny Shamrock AC
3 Breffini Twohig DSD
4 Brid Ni Chonnail Raheny Shamrock AC
5 Caitriona Hooper Raheny Shamrock AC
6 Eimear O'Brien Sligo AC
7 Niamh Devlin DSD
8 Orla Drumm UCC
9 Regina Casey GCH
10 Nicola Ni Ceallaigh GCH
Mile Men
Name Club
1 Brian Farrell Sli Chulainn
2 Colin Costello Star of the Sea AC / University of Arkansas
3 Darren Gauson City of Edinburgh /Scotland
4 David Kelly Sligo AC
5 Emmett Dunleavy Sligo AC
6 Eugene O'Neill Crusaders AC
7 Jason Broderick Loughrea AC
8 Mark Kirwan Raheny Shamrocks
9 Mark Pollard City of Edinburgh /Scotland
10 Martin Conroy Sligo AC
11 Ricard Corcoran Raheny Shamrocks / Villanova University
12 Joe Sweeney DSD
13 Kevin Lalor St. Lawrence O'Toole
14 Dermot McDermott Sligo AC
15 Gareth Coughlan Crusaders
16 Alan McCormack DSD
17 Steven Vernon Stockport AC / England
18 Brian Maher Kilkenny City Harriers