Published in Other News on 13th October 2008
Mayo AC's Angela O'Connor
Report and Photo's By Tom Hunt - Mayo AC
The C& C Cellular Mayo AC Open Road League continued on Sunday with race 7 of the 9 race series. The 'Terry Fox' run takes place annually at venues all over the world in support of the Terry Fox Foundation which raises funds for cancer research in memory of a brave young Canadian athlete. Local man Michael Rice and his team of helpers have organised this race at Ballina for the past 16 years. Mayo AC were once again delighted to support this worthy cause with the inclusion of this race in their League. Many thanks to Murphy Bros for the excellent post race refreshments.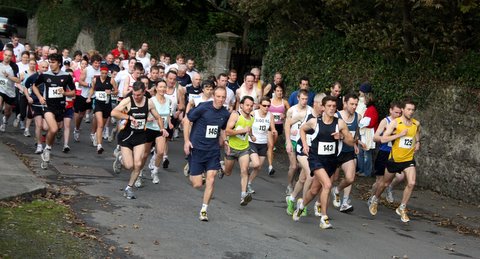 And They're Off....!
There were no individual prizes with all proceeds going to the Terry Fox charity. However, Road Race League points were awarded to the first 25 men and women finishers.
Participants were blessed with excellent running conditions. Starting and finishing near the track at Beleek Park, the one lap course was a good test for the 100 participants with a long drag out of town and a couple of undulations on the way back. Over 90 others also took part in a separate event, many of them youngsters cycling the 4 miles.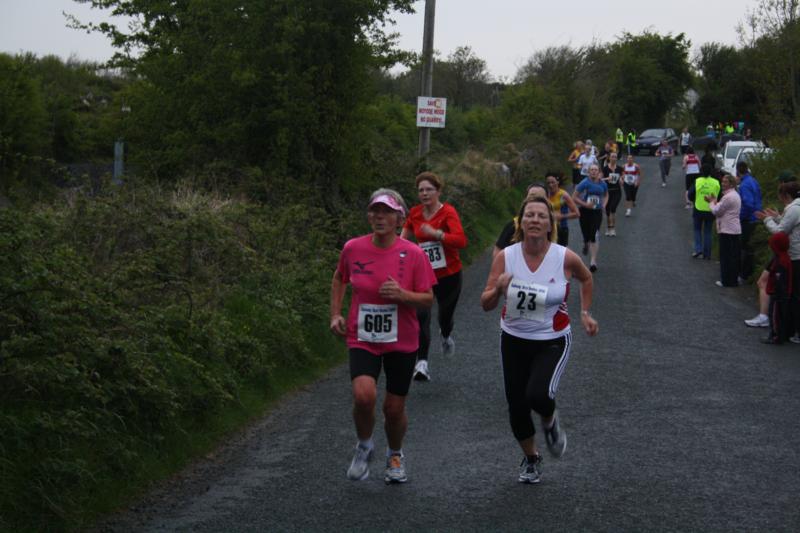 Race Winner John Byrne
Winner of the men's race was John Byrne (Mayo AC - 20.15) beating his winning time last year by 25 seconds. He had a tough tussle with Ballina man Martin Conroy (2nd in 20.48), until they reached Beleek park in the last half mile. Martin was second the previous week in the Galway Bay 10 mile race. Anto Devaney was third in fine form - 21.29, ahead of Martin Corcoran (Craughwell AC) 4th and 1st o40 in 22.01. Among a number of excellent performances were John Connolly (Thomastown AC) 1st u19 in 23.21, Ronnie Naylor (Mayo AC) 1st o50 in 23.21 and David Mullins (Tuam AC) 2nd o40 in 23.29. There was an exciting private duel between two road race masters, TJ Beatty (Loughrea AC) and Bernie Kelly (GCH), with TJ just edging it in the final fifty metres by 5 seconds in 29.04.
Mayo AC's Mary Gleeson has dominated the Women's league so far and she recorded her fifth win in the seven races in 25.29. Ann Murray -2nd in 26.25 - had a great battle again with 3rd placed clubmate Kathy Connolly (26.31) and Olivia Feeney (Sligo AC) 4th woman in 26.48. Angela O'Connor continued her fight back to fitness with a great run to finish fifth in 27.00 2nd o35, just ahead of Cindy McCarthy (Sligo AC), 3rd o35 in 27.44 .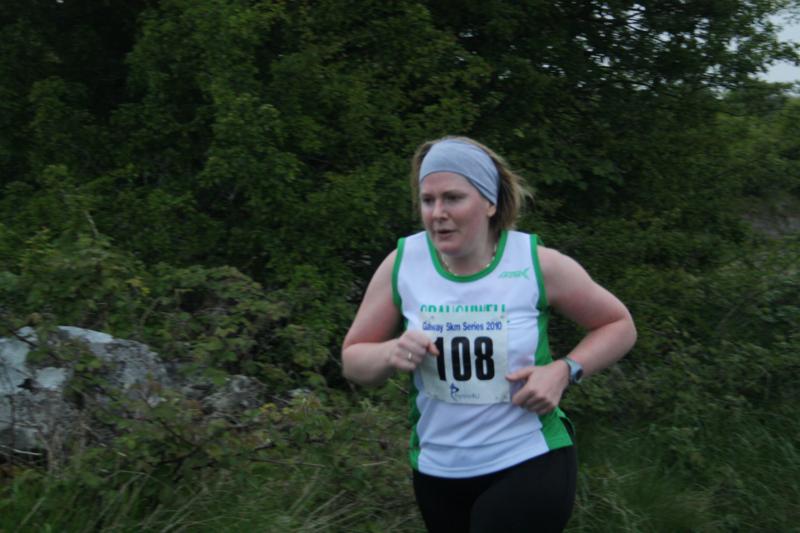 Sligo AC runners Cindy McCarthy 3rd o35, Kevin McGlone, and Olivia Feeney 4th woman and 1st o35
In the Road league, John Byrne and Mary Gleeson remain at the top of the leaderboard. League table points will be updated and a complete list of all participants, who have won points in the series so far, will be on display at the next League race in Hollymount, on Sunday November 9th. The best points achieved from 6 of the 9 races will count towards League prizes.