Published in Reports on 16th December 2005
Well, we love 'em, our spouses, don't we, but what do you say when you are training for a marathon and you hear "Don't run too fast"! ...
I had planned to make a bid for a goodish time in Dublin this year for my first marathon but a bad chest infection in early Summer meant that I couldn't train so the time schedule fell back a little and I scoured the Internet looking for the very last European marathons for the calendar year 2005. Fortuitously, RyanAir opened a new flight to Nantes in southern Brittany and just bit further south on the coast, I saw that La Rochelle was planning one for Sunday Nov 27th, so that had to be the one. It gave me the bare 18 weeks that many consider the minimum training time needed. Dublin was four weeks earlier so I could run a slowish one there to prove to myself that I could run the distance.
My training went as planned over the 18 weeks; I had never run anything longer than a half marathon previously so whatever way you look at it, setting off on Sunday mornings in the countryside around Athenry and jogging along for 2, then 3 hours is a journey into the unknown, no matter how slowly you are going. For the longer runs, it was a lone journey because I didn't want to subject anyone to the pain of going as slowly as I fully intended to go.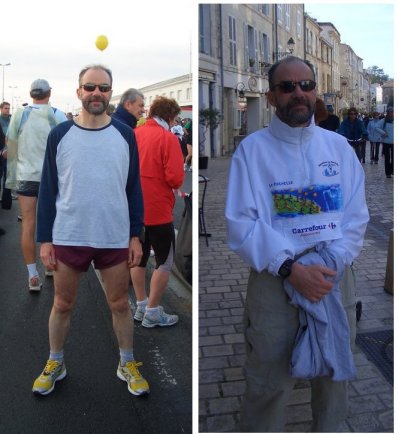 Philip - A Split Personality ?
I survived and then survived my first marathon in Dublin, aiming for anything under 4:15, and achieving 3:56. I even survived Peter Delmer telling me just a half hour before the race that I was "a f***ing eejit" to wear new racing shoes in a marathon. I had worn them on a four-miler without any ill effects but, as Peter rightly said, that is not comparable. In the event they were fine.
So then I had four more weeks of training and a dilemma: what time should I aim for? Many told me that I shouldn't expect to run faster than Dublin, it was simply too close. My pride told me that I was well capable of 3:30 and isn't there something exquisitely rotund and crisp about that number? Two weeks before La Rochelle, I ran with Seamus O'Donnell on his Sunday run and did 1:32 for what he said was a 12 miler. I hardly felt out of breath. On the other hand, Dublin had tired though not exhausted me but to go for a full 26 minutes faster seemed more than I was capable of. Caution prevailed and I settled on 3:40 as my target time.
La Rochelle is a beautiful holiday resort and fishing village about half way down the West coast of France. Picture Kinvara with hundreds of millionaire yachts, a picture-perfect harbour fronted by all the cafes and brasseries you can imagine, medieval stone street houses, and enough sexy lingerie shops to outfit Ireland for an entire decade. Come to think about it, forget Kinvara.
Ireland was under snow and ice the Saturday we left but Nantes was bitterly, bitterly cold. Fortunately, La Rochelle's positioning by the sea made it a little more temperate. The Sunday morning of the run was calm and cold, maybe 4 degrees Celsius, with a slightly wan sun that only marginally warmed by race's end. Most people except the Kenyans had extra clothing but after a hesitation I went with just singlet and shorts as overheating is usually an issue for me. More importantly I ran wearing my Maui Jim Sport sunglasses. Well France is the home of style so why fight it.
They had two separate starting locations, one for senior men, the other for women and over-50s, with the two streams due to converge at 3.5K. So those of us with a more mature vintage made our way to the second starting point, right beside the sea on the harbour. Then to the strain of Wagner's "Ride of the Valkyries" (I think) and a truly ear-destroying fog horn blast from a ship we began our run, skirting the curve of the harbour for the first kilometre or so, then snaking past some streets to meet with the sea again for quite a long stretch of road. You always seem to be going so slowly at the beginning of races, maybe it's the psychology of being hemmed in by so many bodies but the billows of misty breaths at least had the benefit of making it warmer.
I had two stop watches: on my right was the regular one, on my left hand a GPS, bought just a week earlier with a very handy minutes per mile pacer. I had enjoyed using it during the week but had doubts about its ability to reliably switch to new satellites so I told myself that I would wear it as a guide but use the other as my main watch. I've gotta say though that wearing the two made me feel, if not run, like a bionic man.
Still feeling a little cold, I settled among a group of French wearing club singlets, running a steady 8 to 8:05 mins a mile by my GPS. A little faster than I wanted but I felt so relaxed and comfortable that I continued with that and made a promise to take it easy on any hills. The race runners were nearly exclusively French and my first impressions were that it's taken seriously by nearly all, more so than Dublin. Most seemed to belong to clubs and to run in groups of three or more. The onlooking crowds were good for a smallish town but they don't shout and screech like the Dubliners, they clap in a polite and friendly way. I resisted the urge to bow formally and pronounce merci with my best rolling "r". After a time it occurred to me that the slightly weird cry of "At-hen-ree" was aimed at me and my spirit harkened in reply (or something to that effect).
We met up with the senior men and shuffled along in tighter groups again for a way. Despite the smallness of the town, only at the very beginning of the race and in a park was the run crowded to the point where it impeded progress. We negotiated our first hill and the low Winter sun sparkled among the bobbing and weaving heads and shoulders, mist rising from bodies in multi-coloured t-shirts as we wound our way to the crest and turned left. Our faces were intent, our breaths steady, and chat was at a minimum; the calm focus was occasionally interrupted as a runner spotted a mother or relative, ran to the pavement, embraced, gave the double kiss to the cheeks and ran on again.
5K was a reality check and I worked out my speed as 8:10 a mile, spot on. Then we came to a small park and the running path crunched inward to about 6 metres across, so we slowed a little, then passed through a tunnel under a road. The GPS watch got a bit confused there but picked up on the signal soon afterwards. By this stage the runners around me were more familiar, and without meaning to I was following three, all looking strong and running easily; they were a good reference point for me for the first half of the race and they seemed to be aiming for a steady 8 mins a mile or its metric equivalent. Faster than I had planned for but sometimes it's best to go with the flow.
By now we were well away from the tourist spots and into municipal blocks of apartments and again the contrast with the Dublin crowd was brought home. Apart from shouting encouragement to their own friends and relatives, they were more curious than riotous. However, I do them a slight injustice. All through the race I wondered at the phenomenal number of "Phillippes" running, then it dawned on me that my name was printed on my number tag. So, with hindsight, merci beaucoup, mesdames et messieurs!
By 10K we were back among the older streets, my pace was steady and I got my first encouraging wave and shout from my one and only supporter, my wife Catherine. I also noticed a tiny presence on my right-hand side, a woman who could not have been more than 4' 9", bobbing along in a not too economical style. By her t-shirt she seemed to be from the USA (though the official notice said there were only 5 Americans running), and she had a very determined look on her face. She kept with our nearby group for another half hour or so, getting noticeable cheers from the crowd.
The course is two laps of a figure of 8. I'd prefer the Dublin model of one big loop but this has the advantage of familiarity, you know when the crappy bits are coming. Like cobblestones, and tunnels, and short, sharp hills. We ran by a canal back towards the main harbour, passed close to our starting point and commenced on the second loop of the figure of 8. I found this loop harder both times for some reason; maybe it had slightly longer hills, more boring dockland scenery, and fewer people. Its direction and turns completely confused me also, at one stage we were at the very mouth of the harbour which is easily recognisable by two round medieval lookout posts on either side but I was convinced that I was looking at identical ones at the mouth of some other harbour.
We struck back and passed through an archway signifying the half-way mark: under 1:45 (allowing for the delay at the race start), equal to my PB for that distance. However, I knew I was considerably fitter than when running that time at Connemara but on the other hand I was feeling the pace a little. Small things like running over cobblestones hurt when before they had not and I dodged them by running around on occasions. I had lost all contact with familiar runners, unsure whether they had gone backwards or whether I had. I took my second dose of gel as planned, never the favourite part of my longer runs, and continued along the harbour and back out along the sea front. Another mile or two and I knew I would not be continuing at the same pace for the whole race, however, for the moment I kept it up. Then I heard an Irish voice: "How're you feelin'?". He was from County Clare and looking strong. I decided to track him and managed to do so for a mile or so, then he dropped his water bottle and ran back to get it. I never saw him again. Later I saw that 6 of us had made it over from Ireland as against 105 from the UK and dribs and drabs from other countries, a really low number of non-French nationals in a race that had slightly more than 7000 runners.
We passed the hill and through the park and tunnel again. My GPS had now completely lost contact with the satellites and I switched my glances to my other watch and my pace guide strictly to the K markers.
The sun was so low in the sky that for longish stretches we were in shadow. At every point in the race, I was glad to go back into its warmth and slightly regretted not wearing some light gloves; my hands never really warmed up. It wasn't a factor in the pace I was running at, but just one more thing to slightly annoy me. However, the 8 min pace was still on schedule, despite the greater strain and at 25K I realised that my appointment to see Catherine at 30K would not be met, I'd arrive earlier than our worked-out time of 2:40+ or so. I did, by 8 mins and realised that she would be worried and searching frantically for an aging paddy who might be lying in a gutter, having hit the wall instead of the barrel of Guinness that seems more usually to cause our countrymen to make acquaintance with street pavements.
I never did hit the wall but from about 32K onwards it was like repeatedly running a 400 metres hurdles race where you knock every hurdle and then some fool of an official puts the hurdles back up again for the next lap.
It's a curious phenomenon, the sinking inwards as the effort gets greater, the canal's attractive appearance suddenly becomes an irrelevance, the crowd receed...all that remains is the next K marker. We passed the centre of town for our last loop. By now I had decided that I was not going to finish my complement of four gels, having consumed about one and a half; in fact, I had decided that I was never, ever going to have one of those vomitty substances again. We passed close to the runners coming home and I wondered how I would feel when I was at that point. At around 22 miles I had a slice of orange and, for an instant it was the most blissful taste ever, a second later I knew I was going to retch, and then I knew I was going to stop. It all passed. Legs, arms, strides, there is nothing like rhythm.
The debris at the drink and food stations was colossal but nothing compared to the human debris. I saw a runner stretch at a weird angle and then let out a shriek that frightened the antelopes at the Berlin zoo. One runner to our rear seemed to be auditioning for a role in one of Samuel Beckett's plays of despair and hopelessness. After a minute and a half, I wondered why he didn't just stop. So did the runner in front of me and he proceeded to mention this to him sharply. There followed an exchange straight from the streets of Paris, but ultimately I wondered why they wasted their breaths.
It took an eternity but we converged on the centre of town again and the finish. But where was it? There was the start, no, straight through, there was another "blowup" archway, through there, there was a huge clock, surely this one, no, everyone kept on running. A husband in the crowd climbed a barrier to give water and encouragement to his wife and was chased by an official. But I heard him say "deux cents metres", 200 metres,and there it was at the end of a long carpet. I vaguely heard someone call my name, but I was in a tunnel...and I had seen the light! We arrived, I glanced at my time, 3: 43:31, less than my goal but not bad for my second marathon. (In the event, my chip time was a rotund if slightly uncrisp 3:43:00). I was a hell of a lot more tired than Dublin but my legs were nowhere near as sore, despite my lightweight race shoes.
A cup of tea with no milk, a hug from Catherine, and I mentally waxed lyrical with a poem from Kipling (marathons do that to you):
If you can fill the unforgiving minute
With sixty seconds worth of distance run,
Yours is the Earth and everything that's in it,
And -- which is more -- you'll be a Man, my son!