Published in Reports on 8th March 2006
Welcome to Wind Back Wednesday. A new feature where we reproduce a story from the depths of the Athenry AC newsreel. We start off with a Mick Rice account of his 2006 Ballycotton 10.
Of Spritzers And Sprinters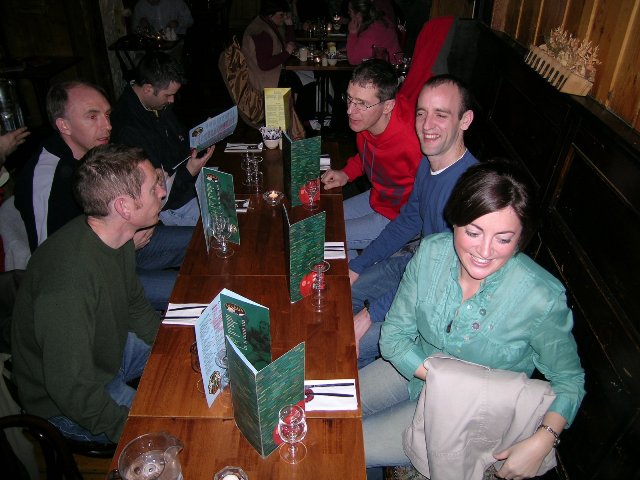 Pre-Ballycotton Meal '06
Thursday 2nd March "" 03:28pm: On the phone from work to my wife, Margaret.
Mick: "Yeah, I feel a little queasy, Declan says there are a lot of people out with a stomach bug, but I don't think I could have that, I'm not too bad."
Thursday 2nd March "" 07:49pm: Sitting with forehead pressed against the top of the kitchen table.
Mick: "Margaret, get a gun, a big one, and shoot me now. Please!"
Friday 3rd March "" 10:31am: Slumped on the couch with a pale green complexion.
Mick: I could just go to the race and take some photos. I might be all right by Sunday. You never know.
Margaret: If you try to go to that race, I will shoot you.
Saturday 4th March "" 09:46am: Nibbling tentatively on some toast.
Mick: Listen Margaret, I'm the boss in this house and if I want to go down to Ballycotton I will.
Margaret: Is that right?
Mick: Please! Can I go? Please?
I arrived at Lotamore House in Tivoli just outside of Cork at around six in the evening. I had an hour or so to relax and stretch out after the car journey before heading into town with some teammates for a pre-race bite. A motley crew of seven runners and helpers met up at Scuzzi's Italian Restaurant to consider the following day's adventure over slightly dodgy pasta and pizza. The campest waiter in Cork considerably enlivened proceedings at our table. Imagine Julian Clary on speed and with Cork accent and you'll get the picture. Further entertainment was derived by all from the 'four-cheeses' VS 'four-seasons' pizza fiasco and Brian O'Connor helpfully topping up glasses of white wine with iced water.
Race morning arrived clear and bright with a strong breeze. I've always thought of this as Ballycotton weather. An early departure from Tivoli for the race ensured that most of our contingent managed to get parked within a reasonable distance of the action. Certain annual rituals have to be followed. I had to buy a t-shirt in a slightly surprising colour and I had to have a rummage through John Buckley's display of running gear. I've yet to come across better service or value for money on running gear anywhere else in the country. The crowds everywhere were noticeably up on previous years. Even early in the day large groups of happy runners were everywhere. Familiar faces were around every corner. John Walshe drove up and down the road in a state of semi-controlled panic. TJ Beatty strolled around with a smile from ear to ear. Perhaps he knew something we didn't or perhaps it was because he wasn't running this year. Who could tell?
The excitement was building as 'showtime' drew near. The fifteen-minute delay, which was greeted by many with a groan, came as welcome news to me as it gave a little more time to stake my claim at or near the front of the throng. My philosophy on this issue is simple. I know I'm not quick enough to deserve a place in the front rank of such a competitive race but very little fine-tuning is possible in the midst of huge crowds. I try to get right up at the front for the start and then accept whatever happens. This year I was leaning on the crash barriers behind the 'real' runners.
The time was here. Hands had been shaken and 'good luck' was wished. Three, two, one: Bang, we're off. As we started down the hill my legs felt completely dead. I suppose standing squashed on a start line for forty-five minutes will do that to you. Try to find a stride; try to find a rhythm; try to conserve and try to float on the downhill. Mile one is a 5:50, that's fine. Club mate Brian is still on my shoulder. It's comforting to see another maroon and white singlet close by. Brian really looks the part in dark wrap-around shades and long confident stride. He stays ten inches ahead of me and to my left as we move into the second mile. Runners stream by on both sides and it's hard to keep your head. Pace becomes more difficult to judge in such a melee. It's so disconcerting to see literally hundreds of people sprinting at the start of a ten-mile race.
The second mile marker flashes by: 5:46 and that's ok as well. I still feel 'okayish' but the effort is starting to bite just a little; not a great omen after two miles of a long race. Mile three is a chance to consolidate. The initial downhill stampede has gone and legs are no longer fresh but if I can set and keep a good pace from this point on, perhaps something worthwhile can be built. As the third marker passes with a 5:51 split I can feel Brian fall slowly off my shoulder. Only half a mile earlier he had looked strong. Brian is such a talented runner that I suddenly doubt myself. Am I pushing on to hard? At this stage I'm starting to struggle into the headwind and decide to concentrate on battling the wind rather than my doubts.
For miles four and five I try to hop from group to group. I'm starting to pass many of the people who had flashed past in the first half mile. Because of the wind, runners tend to collect in small groups of four and five and I try to move up gradually, slowly, painfully from group to group. These two miles show splits of 5:51 and 5:55. I'm slowing. Halfway was achieved in 29:13. My hopes of a finishing time in the low 58:00's were receding rapidly. After halfway we found the first extended stretch where the wind helped rather than hindered. My breathing had been very laboured, sore almost. More than once I consciously tried to draw air deeper into my lungs as I had found my breathing growing more shallow and my pace starting to slacken.
Mile six was a 5:53, I was just about holding onto the pace and passing people in bunches, but couldn't get into any sort of a groove. Fatigue was starting to drag me down and my stride became shorter. Feck it! This hadn't been in the race plan. Having done more long training runs than usual in the early part of this year, I could have hoped for a strong finish and thankfully, and eventually, I started to find some strength in the last few miles. Mile seven was 5:49 and I was starting to regain some control of stride and breathing. Mile eight was not one to go 'bonkers' in, as I knew the last couple included some sharp uphill stretches and so I was happy with another 5:51 mile.
Next came the 'fun' part of the Ballycotton course. As each runner had dashed enthusiastically away from the start and down these hills, less than an hour previously, we had availed ourselves of the glorious benefits of gravity. Now with eight miles in our legs we had to pay the ferryman. What runs down, unfortunately, must also at least try to run back up again. Even though I thought I had recovered my composure a little over the previous couple of miles with a wind at my back, I knew that these hills were tough enough to hurt.
I didn't want to over-think this part of the race either and so I just picked a spot on the road about ten yards ahead, stared at it, and plowed forward. As we got closer to town there was much more vocal support and I could feel the encouragement lifting me. I was completely satisfied with a 5:59 time for the penultimate mile, as I knew it included the sharpest of the hills. All that was left now was a final blast for the sanctuary of the finish line. I was trying to make sure that I finished amongst the top one hundred runners in order to earn the special t-shirt that is given to the runners who fill those finishing positions. I had two such t-shirts at home and I was chasing a third. Caution was thrown to the wind, oxygen debt was embraced and there was only one thing up for debate: would I puke before the finish line or after it?
I was done. Hands on knees and desperately gulping down air. Stewards immediately moved us forward, politely, efficiently and firmly. I was given a mug, great! I was given a 'Top 100 Finisher' t-shirt, fantastic! Another year done and we're not dead yet. Final mile had been a satisfying 5:42 for a 58:28 total which was good enough on the day for 49th place overall and 5th v40. I was happy.
Post race was a time to smile and enjoy the chat. Most of us had run good races and all of us had enjoyed ourselves. I heard no complaints. How could anyone complain? We talk and we smiled and we promised to do it all again next year. Many of us will cross paths much sooner than that, but even those days won't be like the ones we spend in Ballycotton.