Published in Other News on 22nd November 2005
Entries for next year's Failte Ireland Connemara Marathon Races are well ahead of last years numbers even at this early stage in the build up to the races.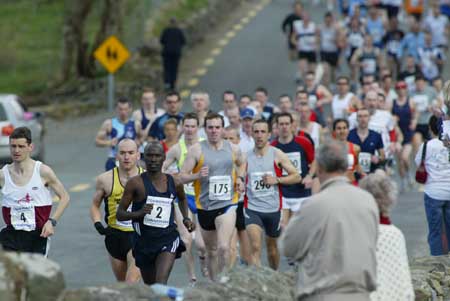 Paul McNamara Takes The Lead
Race director Ray O'Connor said today, "We've been blown away with the level of interest from all over the world. We have triple the number of entries on hand than we did at this point last year." The Connemara Marathon, Half-Marathon and Ultra Marathon have rapidly become 'must-do' events for many runners, both from Ireland and further afield. Ray and his race team recently exhibited the race at the 'expos' which preceded both the Dublin and New York City Marathons. "The atmosphere around the stand in both venues was electric", said Ray O'Connor. "We were showing some video footage of last years race and it just seemed to rekindle all the enthusiasm people have for running in Connemara."
At this pace it seems absolutely clear that these races will fill completely early in the New Year and so the message is clear. If you want to run, enter soon.