Published in Fields of Athenry 10km on 19th December 2009
12 months later and last year's winners look like the athletes to beat in this year's running of the Fields of Athenry 10km.
Gary Thornton has had a mixed year, with some fantastic performances over the county, finishing 4th in the Inter-clubs in March and 6th in the inter-counties, narrowly missing out on a place on the Irish team that competed at the European cross county championships.
His debut marathon in Hamburg didn't go quite to plan as he was forced to withdraw, but ran one of the fastest 10kms on the road in Ireland this year when winning the Hollymount race in a sub 30 time.
Challenging Gary will be local runner, and former winner of the Roscommon Herald's Rossie of the week, Paul MacNamara. Paul has been a bit quiet in competiton terms lately after his attempt to defend his Edinburgh marathon came unstuck, but he came back to finish 20th in the Inter county cross country in Kilbeggan a few weeks ago. Also on the starting will be last year's 2nd & 3rd placed athletes Sean Hehir of Rathfarnham [via Co Clare], and Emmet Dunleavy of Sligo. A new entrant this year will be two times National Steeplechase champion, Rory Chesser of Ennis Track club.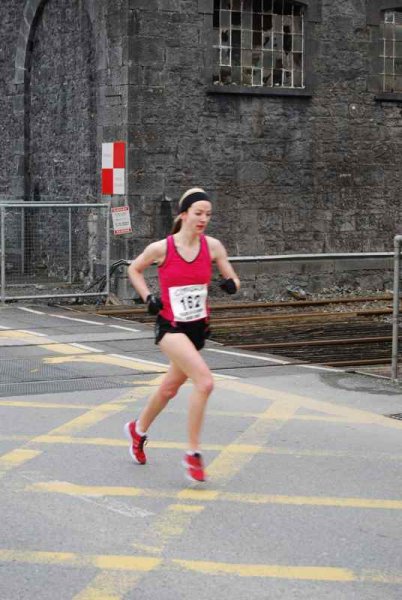 Catherine Conway
Catherine Conway of Mayo AC returns to defend her title. After missing out on the Dublin City marathon through injury, reports are that her training is focused on this race. Last year's runner-up Lucy Brennan has had a great year and is flying form. She won the Cork Marathon in a time of 2:49:14 on an exteremely hot day, and backed that up to win her category in the Dublin City Marathon.
The most likey contender to this pair will be a rejuvenated Catherine Casserly of Castlegar AC. After a number of injury struck years, she won the Hollymount 3km in style. Athenry's Eimear Butler should also perform well after a good marathon debut.
 No doubt there are a few contenders I've missed out on.
Best of luck to all.