Published in Results on 29th October 2007
Photo Courtesy James Sexton
Galway City Harrier Mike O'Connor claimed the national marathon title in Dublin today with a fine display of tactical running. His 2:25:48 was enough to de-throne last year's National Champion Cian McLoughlin and bring the title back to Galway. Our heartiest of congratulations to Mike from all Athenry AC runners.
Photos, courtesy of Catherine Magnier:
http://www.athenryac.com/image-galleries/2007-dublin-city-marathon
Athenry AC had a big day at the races ourselves and I'm sure there'll be reports and analysis galore over the next while but I'll just try and list out the bare results for what they're worth.
Position Runner Chip Time
74 Mick Rice 2:46:14
79 Brian O'Connor 2:46:39
95 Brian Bruton 2:49:41
181 Peter Delmer 2:57:30
199 Robert Staunton 2:58:10
210 Alan Burke 2:58:43
318 Owen Curran 3:06:02
501 Michael Rooney 3:14:02
1142 Frank Burke 3:30:26
1160 Philip Magnier 3:30:52
1484 Conor Dolan 3:37:50
1944 Ray O'Connor 3:45:39
2523 James Lundon 3:53:13
3880 Finbar Connolly 4:11:49
4107 Ed Egan 4:14:57
4380 Peadar Nugent 4:20:27
5311 Bridget Ann Walsh 4:36:30
Liam Mycroft DNS
Iain Shaw DNS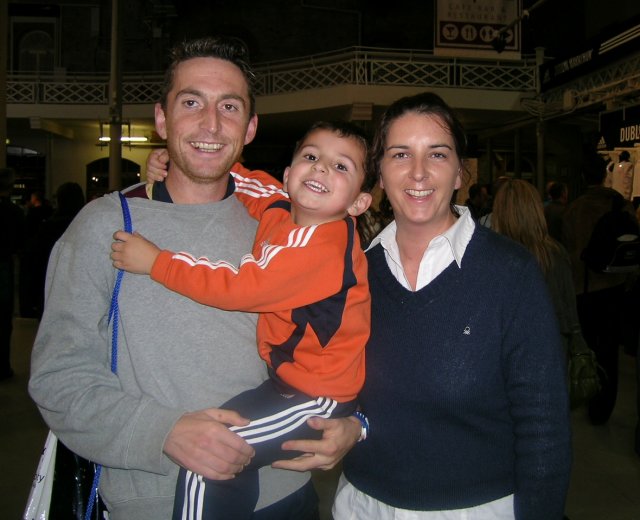 Michael O'Connor - National Marathon Champ with Family
Of course these bare figure tell no story. There were some fantastic runs by club members today and some goals that just escaped us. To have six club members just dip under the three hour mark was quite some achievement and to have nineteen entrants and seventeen finishers was outstanding. We can't think of a club with a larger contingent competing in the race. It is a record of which we can be proud. We all salute Peadar Nugent who completed his 28th Dublin City Marathon today despite injury. Unbelievable Peadar, unbelievable.
Some honourable mentions:
97 Lucy Brennan 2:50:01
?? The Ghostie Postie 2:57:??
297 Tom Hunt Mayo AC 3:04:30
484 Tommy Joe Whyte Tuam AC 3:13:44
1224 Brendan Monaghan Tuam AC 03:32:48
4543 Eileen Donoghue Unattached 4:22:51
2286 John Walshe Ballycotton 3:49:54
Let the race reports begin.