Published in Reports on 11th March 2008
A blow-by-blow account of my best ever race. Ballycotton 2008, my last race as a senior as I'll hit the big four-oh at the end of the month. Here's what happened.
Mick Rice, Mark Davis and I line up as close to the front as possible but are still swallowed up in the crowd. By race-start we are nine or ten rows back from the gun and that's probably ideal. Mick continually beats into me the mantra of not going out too hard. He knows I'm chomping at the bit and tries to ensure I don't expend all my energy in the first few miles. I take it in but make no commitments. Of course he is right, but it's a balancing act between what's too fast and what's just plain slow.
The three adversaries shake hands and wish each other luck before heading out to do battle with the sound of the start-gun ringing in our ears. It takes about four interminable seconds to cross the start line. Like a wound-up spring I want to burst forward from the line but instead find that I'm hampered by a surge of bodies and can only pace myself with the crowd. It takes a lot of concentration to stay vertical and not trip in the heaving humanity but vertical I remain and after about 600 metres I begin to find a yard of space. The narrow streets of Ballycotton are ideally suited for crushing 2000-plus bodies together when all they want to do is get running.
As the space opens up I take stock. I believe that Mark has disappeared into the crowd ahead of me and I'm fairly sure that Mick is somewhere just behind me but I can be certain of neither of these facts. Consumed with finding a balance between propelling myself forward at a rapid pace and not wasting energy with sideways movement, I carry out delicate overtaking manoeuvres. At this stage of the game chaos is the order of the day – I am running alongside some, passing more and being passed by others. I spy a mark on the thoroughfare indicating that the first 800 metres has passed in just under three minutes – a little slow but there's downhill ahead.
Now I'm running. We pass the school and the outer reaches of Ballycotton village and descend to the plains. You never get to warm up properly for this race as there's a definite lack of space in which to do so and an overwhelming urgency to be in place at least thirty minutes before the 1:30pm start, so that you can stake your starting position. This year I managed about ten minutes jogging back and forth on a short stretch of road and two hurried stride-outs. Now as I approach the first mile marker and encounter the first downhill rush I feel a slight stiffness and wish I'd done more. 5:49 that was a bit slow! I'm targeting 5:42 per mile for a 57-minute finish (brave? stupid? naive? take your pick!) so a downhill mile should be faster than that.
Fast downhill, watch-your-step and around the first sharp corner to hit the flat stuff. I'm now steadily passing people and am beginning to target groups ahead of me. There's a stiff breeze abroad so I'm already working hard but on my seventh annual run on this hallowed course I know the wind will be at my back for the second half of the race. I race forward catching a group of runners, resting in for a while in their midst and then moving to the front of the group and on towards the next bunch. So passes mile two in 5:44. Better.
As I move towards the third marker a thought occurs to me. In the lead-up to this race I had tried to run the course in my head on a few occasions but always found it difficult to visualise the middle miles. Sure I could recall the start and finish sections but the middle miles are not imprinted in the grey matter. Now I realise that all I am taking in is the immediate stretch of road in front of me, the awareness of bodies around me, the fine-tuned attentiveness to my breathing and perhaps a target singlet ahead of me. I don't see the fields, the cattle, the occasional huddle of spectators, the farm entrance, the blue sky or the new-born lambs. I see road.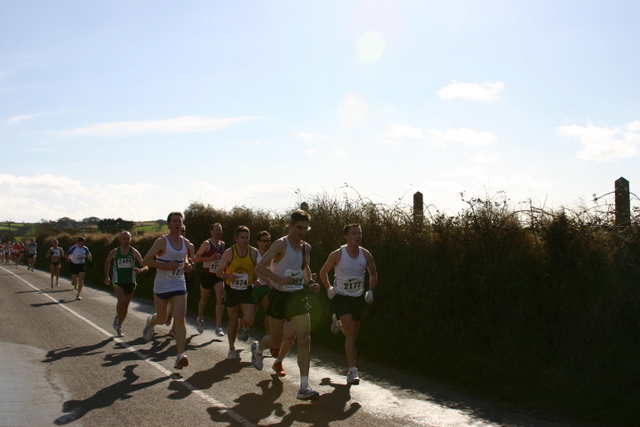 Buried in the Group
5:52 for the third mile. I'm worried. I'm not dawdling here. I've been consistently passing people. The body clock tells me not to push much harder than this, but I'm not hitting my target splits. This early in the race it should be easy!
By now I'm not passing people so easily. I've apparently hooked up with a tall man in a bright orange top. I immediately christen him Holland-guy because a severe lack of blood to the brain completely stifles anything more creative than that. I need every spare drop of blood to fuel the legs. Holland-guy pushes forward and I try to draft behind him into the headwind but there isn't much shelter to be found. We continue to reel in other runners. 5:49 at the fourth.
On towards half-way at the back gate into Ballymaloe House. By now our team of two has swelled to three, perhaps four. Somewhere along this mile we join a larger group and I commit the terrible sin of falling asleep in motion. You must make allowance for the fact that never before had I run Ballycotton this fast and I am in uncharted territory. Even though I am overtaking people all the way, an inherent lack of confidence convinces me that I cannot keep doing this and that I must assimilate into the Borg. Who am I to be passing talented athletes? I allow myself to drift into a group and I slow down.
Wake up! I notice that Holland-guy has opened a gap on me and I snap out of it. I close ranks and begin to pull away from the magnetic group that almost captured me.
5:54 for the fifth mile. My slowest yet. I know it's windy but I thought I'd be faster than this. I realise that if I am going to run a personal best today then only a negative split will do. That means I have to run the uphill second-half faster than the 29:08 I've just run for the downhill first-half. Yet I am strangely confident. Having trained harder than ever before over a continuous four month period I know there's strength in the legs that was never there before. Having burned out two solitary Tuesday evening ten-milers on the track in 60:07 and then 59:31 I knew I was in personal best shape. My previous best is only two months old – a 57:30 effort in Mallow in early January – but it's old enough to be bettered!
We round a bend in the road after the fifth mile marker and encourage the crowd of onlookers to whoop it up a bit as we pass. I find myself in a group that has loosely stuck together for some time now and I'm delighted to hear somebody suggest that we work as a group. Wind is pushing us forward, two guys at the front are beating out a rhythmic pace, I rest in behind them and we hit the sixth mark in 5:42. For the first time in the race I have managed to hit my target pace.
Now the group begins to work. We take a turn at the front, we exchange encouraging grunts, we rest-in and we push back to the front again. Strangers locked in a running camaraderie. I wouldn't give an inch to these guys were we close to the finish, but for now we run as one. I check the watch twice at seven miles to verify that it really says 5:37. This is a hot pace.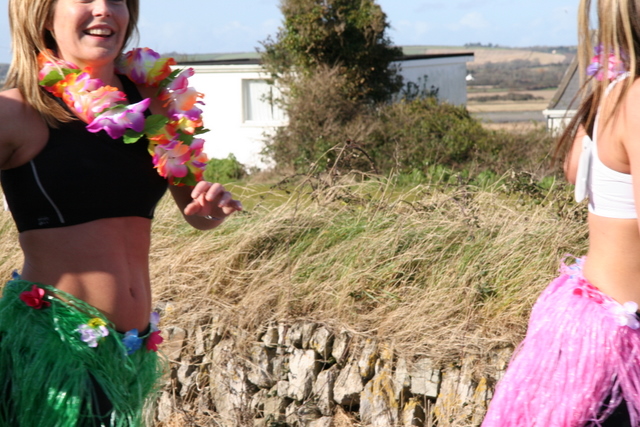 Hoola Girls run Ballcotton too
No bad patches yet. I continue to run smoothly. But this is not one of those races where you feel you're floating along either. I'm really working here – on the edge but not yet over the edge. Our tightly-knit group catches knots of runners and leaves them in our wake. Invincible? No! Confident? Hell yeah.
I notice Mark ahead. He's a long way ahead but I know that I haven't seen him since the start line so I must be gaining on him. Mark becomes target #1.
Mark Davis is a very fast runner. Pound for pound he'll beat me any day, but I know that his training is a balancing act between hard work and remaining injury free. I now realise that today is possibly the best chance I'll ever have to get ahead of him and I resolve to do so.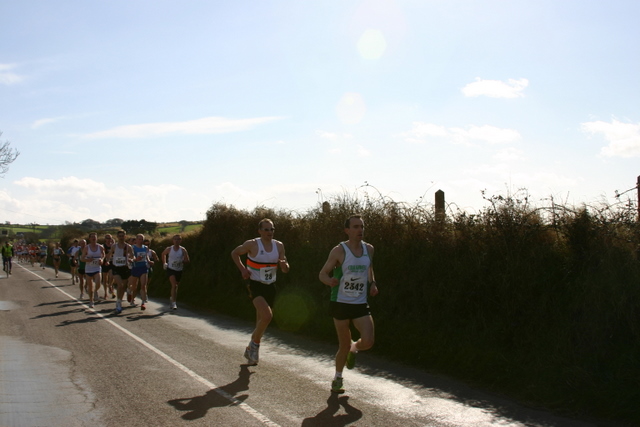 Target #1
Our little hard-working group is breaking up. I haven't seen Holland-guy for some time. A broad shouldered man wearing a black top is leading us forward and, as far as I can tell, only two of us are with him. Blacktop exhorts us forward to catch a couple of runners perhaps 30 metres ahead but for the first time in the race I cannot respond. I quickly decide to let him go and he ploughs the lonely path forward alone. I know that I am running as fast as is possible at this stage and am unconcerned that a stronger runner can pull away from me. Good luck to him. I see Mark ahead.
I pass the eight-mile mark with a 5:33 split, the fastest to date. I've reduced the gap to Mark considerably and I note that my #1 target slows a little to take on water. I begin to rehearse a few words of encouragement in my head. I want to motivate him, certainly, but not enough that he'll find a second wind and romp home ahead of me! I say a few words as I pass and am relieved to see that he doesn't give chase. Target #1 reverts in my mind to being the gentleman that he truly is and he urges me on as I notice the hill looming ahead.
I have a plan for the hill back into the village this year. I'm going to take it easy. In previous Ballycottons I have succumbed to the adrenaline rush of the approach to town and given my all on that short, sharp hill. I have then paid the price in the final yards as lactate-laden legs seize up and wiser athletes rush by. With an uphill mile-and-a-half to go I remember my plan and ease up that rise. I tuck in with an English runner from South London Harriers and we meet the welcome sight of the nine-mile marker with a 5:47 split. The tailwind must have pushed us up.
One mile to go and here's the deal. I've ascended the steep bit and am on the uphill drag. I'm racing London-guy (no my creative juices cannot come up with a better name as I've more important stuff going on right now). I'm flat-out racing and determined to catch a few more on the run in. I register Maeve on the right hand side of the road with a camera and am greatly encouraged as she shouts me on. I hit the 1000m mark and I become a running machine. This has happened me many times in the past. All detail is shut out. I am simply running. I hear no sounds. 800 to go. I see no landmarks. 600, 400. I know I've one lap of a track to run. I am deprived of sensory input but run to the 200 mark. Now I push and attempt to sprint to the line. Mild disappointment registers as I surge towards the clock and see that 57 minutes have passed and the seconds are rushing forward. For the first time I am the person-passing-people and not the person-being-passed at the end of Ballycotton. I hit the finish line and in two steps I come to a violent stop … I can go no further.
The last surreal mile took 5:34. A new personal best by nine seconds in 57:21 but there's more to come. Stewards help, cajole and push me forward through the finishing chute. Exchanging congratulatory handshakes with the runners around me, I glance at the clipboard where finishing positions are being recorded. They must be on the second page of results because there's my number in the second column near the top of the page. Hold on it says I've finished 29th! No way. I'm hunted forward by the stewards and as I go I check my race number and then steal a look at the second clipboard. Sure enough I'm 29th. Incredible. The happiest man in Ballycotton picks up his mug and starts to float. I haven't come down yet.
-----------------------------------------
Photos in this report were stolen (!!!) from the Eagle AC site and must be credited to Siobhan Murphy and Ciara Nolan. There are loads more up there so go take a look at http://www.eagleac.net/component/option,com_gallery2/Itemid,86/?g2_item…
-----------------------------------------
Splits
1 5:49
2 5:44
3 5:52
4 5:49
5 5:54
6 5:42
7 5:37
8 5:33
9 5:47
10 5:34
Total 57:21
1st Half 29:08
2nd Half 28:13
Split -00:55