Published in Club News on 23rd March 2009
Athenry AC's Valerie Glavin produced a stunning run in the Connemara sun yesterday to claim her first Connemara Ultra Marathon title. Running strongly from the start Valerie proved immensely strong over the tough Connemara course and came home strongly over the 'Hell of the West' to the resounding cheers of her Athenry clubmates, many of whom were there to witness her triumph. Valerie has trained like a Trojan since before Christmas with this race especially in mind and had run innumerable miles around the town of Athenry both in the early hours and late at night to be fit for yesterday's race. All of her training paid off handsomely when she crossed the finish line in Maam Cross in 5:25:33 which was a full 19 minutes clear of her nearest rival.
Congratulations Valerie from all your clubmates at Athenry AC and we're anxiously awaiting your race report.
We'll have more on how the rest of the Athenry AC crew fared shortly along with some pictures.
Enjoy your victory and some well earned rest.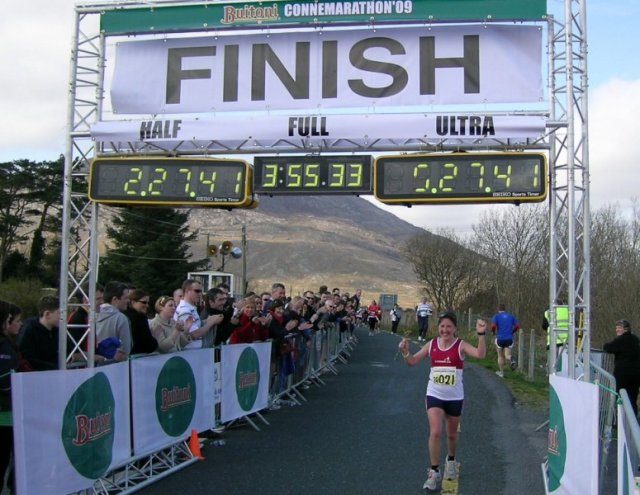 Valerie Glavin Ultra Champion
VG splits from yesterday
7:32
8:10
8:45
7:54
8:38
8:26
7:56
7:28
8:05
9:04
8:00
8:08
8:13 1:46:19 - 13 mile split
8:13
8:17
8:18
8:32
8:49
7:59
8:02
8:03
8:02
8:29
7:40
7:48
8:09 1:46:2 - 13 mile split
8:32
8:47
7:49
8:11
8:18
9:17
8:38
7:39
8:43
9:23
9:28
8:11
8:16 1:51:12 - 13 mile split
1:42
-------
5:25:34