Well, what a day!
A big thank you to everyone who supported the very first 'School Run 5km Road Race and Fun Run'. Both the 5km Run and The Fun Run were generously supported by runners and walkers, parents and pupils, neighbours and friends. The result of all of our hard work was some fantastic fundraising for the school for which we all all very thankful.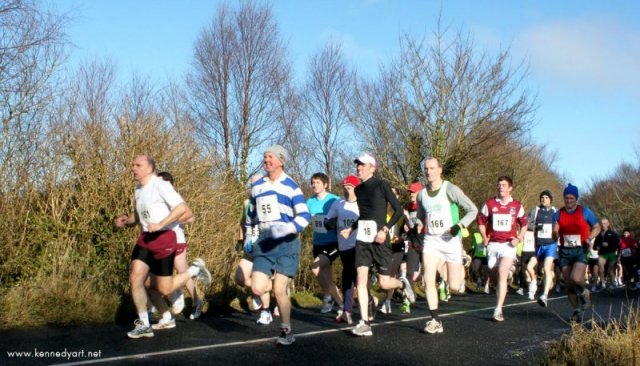 2010 School Run - start of race:Image courtesy of Francis Kennedy www.kennedyart.net
We were blessed with fine weather and the whole day was by general consensus a great success.  The results of the adult race are given below.  If any of these details need to be corrected please let me know at [email protected] and I'll do so straight away,
Until Next Year,
Mick Rice.
Official Results of the School Run 5KM Road Race '09   Pos Num Time Name Category Prizes 1 68 16:52 Tony Scanlon M M1 2 44 16:56 Peter O'Sullivan M M2 3 37 17:25 Seamus Gillhooley M M3 4 66 17:43 Paul Keane M   5 21 17:57 Tommy Niland M   6 95 19:03 Danny Carr M   7 158 19:12 Darragh McShane M   8 89 19:16 Michael Lally M   9 55 19:20 Patrick Coen M   10 123 19:33 Aidan Spellman M   11 153 19:46 Ollie Higgins M   12 23 19:50 Martin Mooney M   13 109 19:55 Owen Curran M   14 80 20:02 Andrew Talbot M   15 69 20:07 Joe Scanlon M   16 1 20:23 James Lundon M   17 78 20:35 Diarmuid Quill M   18 163 20:42 Brendan Monaghan M   19 18 20:48 John G Flaherty M   20 156 20:51 Shane Donohue M   21 19 20:52 Enda Munnelly M   22 115 20:54 David Donohue M   23 173 20:58 John Regan M   24 40 21:09 Frank Flannery M   25 154 21:11 John McDonald M   26 166 21:21 Liam Nolan M   27 113 21:28 Thomas Ruane M   28 110 21:31 Michael Dermody M   29 179 21:32 Micheael Casserly M   30 177 21:37 Michelle Lynch F W1 31 168 21:44 David Flaherty M   32 176 21:50 Ciaran O'Toole M   33 164 21:56 Gary Collins M   34 94 22:05 Stephen Callinan M   35 112 22:08 Robert Donnellan M   36 82 22:13 Michael Duane M   37 117 22:15 Sharon Gilligan F W2 38 116 22:15 Therese Maher F W3 39 151 22:17 Patrick Murphy M   40 175 22:38 Adrian Burke M   41 167 22:40 Niall Stewart M   42 59 22:42 Enda Collins M   43 77 22:43 Anthony Fitzpatrick M   44 122 22:44 Seamus Brady M   45 57 22:52 James Corbett M   46 120 22:57 James Knight M   47 174 22:58 Paul Burke M   48 126 23:00 Eddie Fitzsimons M   49 125 23:04 Michael O'Sullivan M   50 4 23:16 Michael J Jordan M   51 105 23:19 Eve Daly F   52 73 23:21 Bernie Kelly F   53 171 23:31 Paulo Corrado M   54 56 24:09 Timmy Haverty M   55 33 24:11 Michael Lane M   56 114 24:24 Roger Rushe M   57 97 24:39 John Byrne M   58 178 24:51 Ian Egan M   59 162 24:56 Bob Reilly M   60 108 24:59 Therese Murray F   61 127 25:00 Stephen Flannery M   62 8 25:00 Stephen McColgan M   63 130 25:07 Thomas Mangan M   64 96 25:15 Gerry Fogarty M   65 63 25:18 Niall Keavey M   66 29 25:24 Mark Cronin M   67 86 25:27 Siobhan Ward F   68 104 25:27 Mary Kate Dilger F   69 107 25:28 Mark Jennings M   70 27 25:40 Cathriona O'Connell F   71 67 25:41 Martina Donnellan F   72 62 25:48 Yvonne Keary F   73 81 26:01 Martin Hynes M   74 98 26:04 Helen Monroe F   75 100 26:08 Brian Flannery M   76 101 26:15 Anne Marie Walsh F   77 128 26:30 Bridget Kissane F   78 160 26:36 Pauline Hardiman F   79 61 26:38 Helen Geraghty F   80 106 26:43 Máire Leader F   81 15 27:04 Fiona Lane F   82 170 27:13 Janet Clancy F   83 38 27:14 Sean Keane M   84 24 27:18 Liz Nugent F   85 76 27:27 Pat Kelly M   86 11 27:28 Emer Cosgrove F   87 64 27:36 Louise Gallagher F   88 47 28:07 David Ryan M   89 157 28:11 Karen O'Shea F   90 165 28:11 Michael Collins M   91 111 28:30 Sinead Heneghan F   92 32 28:40 Diego Gutierrez M   93 22 28:42 Michelle Tooher F   94 152 28:43 Anne Hunter F   95 42 28:44 Rafael Gallardo Salas M   96 58 28:53 Michelle Collins F   97 60 28:56 Lorna Holly F   98 180 29:04 Child One M   99 75 29:05 John Keady M   100 13 29:09 Maria Hehir F   101 172 29:23 Louise Hennelly F   102 124 30:20 Michael Fallon M   103 91 30:36 Tiernan Burke M   104 90 30:44 Maeve Noone F   105 159 30:58 Martina McShane F   106 28 31:05 Catherine Greaney F   107 35 31:06 Stephen Liu M   108 74 31:48 Gerry Donaldson M   109 169 31:58 Orla Kelly F   110 17 32:00 Marie O'Donnell F   111 145 32:06 Frankie Carr F   112 31 32:07 Mary Ryan F   113 20 32:52 Anna Nestor-Beirne F   114 92 33:10 Clara Burke F   115 93 33:12 Teesha Collins F   116 87 33:13 Deirdre Quinn F   117 10 33:32 Niall Cosgrove M   118 121 33:40 Deborah Knight F   119 181 33:43 Child Two M   120 78 34:04 Diarmuid Quill M   121 9 34:21 Niamh McElwain F   122 65 34:35 Clare Gallagher F   123 72 35:59 Christina Gittes F   124 71 36:00 Sinead Goaley F   125 155 37:21 Olivia Owens F   126 46 37:23 Mary McInerney F   127 83 37:25 Marie Curran F   128 84 37:26 Marion Teahon F   129 103 38:15 Ynonne Burke F   130 88 39:10 Kevin Devally M   131 102 39:22 Kevin Doherty M   132 119 39:59 Mary O'Connell F   133 85 42:35 Ger Ward F   134 118 43:11 Eimear Seery F   135 14 44:37 Angela Hynes F   136 131 49:51 Harry Monson M   137 132 49:51 Elaine Monson F   138 133 50:29 Marie Dillon F   139 43 50:30 Noreen Doherty F   140 45 50:30 Vincent Hanley M   141 26 50:30 JJ Duane M   142 25 50:30 Brendan O'Connor M   143 70 FNSHD Mary Holland F   144 53 FNSHD Pat Holland M