Published in Fields of Athenry 10km on 26th December 2007
Entries are now open for the 2007 running of the Fields of Athenry 10k Road Race which will take place on the 26th of December next. The race will be run over the same course as last year, starting alongside the railway tracks in Athenry and finishing under the town's medieval Arch. (See Route Map Below)

This year race entries will be accepted in any of the following ways –
1. Online at www.RunIreland.com. There is no surcharge for online entry, but you'll need a credit card.
2. By post using the usual race entry form which is attached at the end of this article.
3. A limited amount of late entries will be available on race day at the venue, subject to availability.
The cost of race entry will be Euro 15.00
We'd strongly encourage people to use either the first or the second methods above as to do so will assist us greatly with race administration and will secure your place in the race.
This race warmly welcomes runners, walkers and wheelchair athletes of all standards.
Postal entries, with the appropriate payment should be sent to "Fields of Athenry 10k Entries, 8 Cuirt Ard, Ballydavid, Athenry, Co. Galway". People who enter either online or by post will collect their race pack in the registration area on race day. This pack will include their number, safety pins and race programme. This is a simpler, faster process than entering on the day. Depending on the level of pre-entries, the number of entries allowed on the day may be limited.
Race HQ will be in the Presentation College Athenry.
Registration will open at 09:00am and close at 10:30am.
Race starts at 11:00am.
All race entrants will receive a souvenir woolly hat and the first fifty finishers in the race will be presented with a 'Top 50' t-shirt in recognition of their achievement.
The use of headphones (iPods, radios etc) is not allowed during the race and when entering you agree that you will not use equipment like this during the event. This is for your own safety and we hope you'll comply with this requirement.
The race awards ceremony will take place in the Presentation College Hall at 12:30am on race day.
Provisional race results for all entrants will be published on www.AthenryAC.com on 27-12-07
Fields of Athenry 10km Road Race
Find more Runs in Athenry, Ireland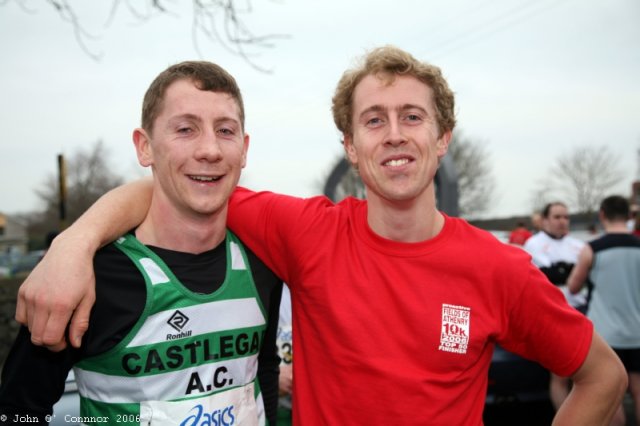 Happy Faces At Last Year's Race